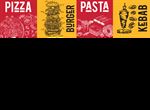 Fresh and authentic Italian Food in Medway
The team at Global Kitchen are passionate about providing their customers with fresh and authentic Italian food that cannot be found anywhere else in the local area. They specialise in delicious Pizza and Pasta dishes, as well as homemade beef kebabs, charcoal grilled chicken, and homemade gourmet burgers that are bursting with flavour. You can enjoy their indulgent Milkshakes if you are looking for a sweet treat too. Whilst they are currently offering takeaway services, they will also be adding seating in the near future.
From Italy to Gillingham
The Owner and Manager of Global Kitchen were both born and raised in Italy, and they fell in love with the succulent cuisine over there that was always home-cooked with love, using the freshest ingredients. Having moved over to England, they opened their first restaurant in London where they have been serving their speciality dishes for years. They have now branched out to Medway, in order to share their Italian culture, and serve their food outside of London.
Since they opened their doors on 21st November, they have received incredibly positive feedback from their customers, with many returning for more already.
You can order now from Global Kitchen through their website, or you can call them on 01634 302 654. They are open seven days a week, so you can enjoy their food whenever you desire!