The K S Roofing team are specialists in the removal of asbestos from garage roofs and cladding. Based in Bromley, this independently-run business covers Ashford, Maidstone, Canterbury, Swale, Tonbridge, Malling and beyond. Since it was established in 1976, K S Roofing has carried out over 10,000 roof renewals, so rest assured in knowing that you will receive a high quality, trusted service.
Despite the fact that it is now illegal to use asbestos in any new roof construction, there are still many garages that have asbestos roofs. As long as they are intact, they should not pose any health risks, but it is always advisable to replace them with roofs made from alternative materials sooner rather than later.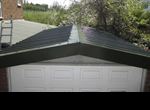 K S Roofing will carefully locate, remove and dispose of asbestos to keep roof spaces safe and secure. Where possible, asbestos is removed in whole sheets to avoid creating harmful dust. Once the asbestos has been removed, the team can replace it with polyester-coated galvanised steel anti-condensation galvanised steel sheets with matching flashings, along with uPVC facias, plastic gutters and downpipes.
Asbestos single garage roof and standard double garage roof replacements carry a 20-year material and 3-year labour guarantee. This includes removal of the old asbestos and replacement with polyester-coated anti-condensation sheets. Both options have a life expectancy of 25 years and neither requires any maintenance. For more information and prices, visit the K S Roofing website.