Online store in Kent selling high quality sports equipment at fair prices and with discounts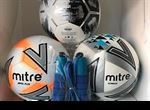 Millionz Direct is a recently established online store based in Rochester, Kent selling an array of quality gear and products from different sports across the county. Continuously seeking to expand into other niches, Millionz Direct offers affordable prices combined with a speedy and efficient delivery process. From football socks to golf balls to swimming goggles, Millionz Direct strives towards 100% customer satisfaction but also aspires to one day become one of the most established sports retail companies in the UK. There is a refund on products if customers are not satisfied. The online store is currently offering 20% off all products and will follow-up that discount campaign with more promotions.
Delivery in Kent for sports products including football, rugby and netball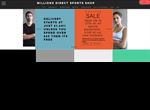 Millionz Direct products include footballs, rugby balls, netballs, basketballs, mouthguards, kicking tees, marking cones, Titleist golf balls, skipping ropes and training ladders. Customers can call or email between 8am and 8pm during weekdays and 9am and 3pm on Saturdays. There is free delivery for orders of more than £45 in a single transaction. The most popular products at the moment are footballs, rugby balls, netballs, skipping ropes and golf balls although the store provide a range of other sports equipment and accessories - in different colours - that are needed in everyday sport.