Local tourist attraction in Dungeness, Kent
After three years of planning and construction, the Old Lighthouse was established in 1904 and has become a historic tourist attraction, surviving both World Wars. It was originally designed to provide light to a variety of vessels as they navigated across the uncertain English Channel, but after being decommissioned in 1960, the Dungeness Lighthouse has become a popular visitor destination. Whether you're a history buff or a big fan of beautiful panoramic views, the Old Lighthouse is the perfect spot for a variety of visitors and is very family friendly. Thanks to its educational value and historic elements, the Old Lighthouse is a wonderful local attraction and is ideal for a family day out.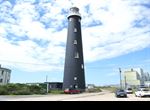 The Old Lighthouse in Dungeness, Kent
Located just a one minute walk away from the Dungeness train station, the Old Lighthouse is a grade II listed building. We pride ourselves on the immersive experience that we offer to our visitors, including; the Great Lens and Sector Light, the inspired Victorian architecture, the picturesque panoramic views and the comprehensive history and knowledge of the lighthouse and the men that operated it. This landmark of Dungeness is also available as an alternative venue for a range of occasions, from weddings to a filming location. Adjacent to the Old Lighthouse is also the Dungeness Station which is the final stop of the famous Romney, Hythe and Dymchurch light railway which reopened in 1947.
For more information about the Old Lighthouse, visit our website or Facebook page. We hope to see you soon!