Ever wondered what a great Back Office Services company looks like?
Cantium wants to change how our customers think of back office services and believe that one size does not fit all. We work with our customers to understand their priorities and help shape the vision of their business, support their growth and deliver success.
We are are a back office services company, where organisations outsource their IT, HR and Finance for us to complete on their behalf, providing a more efficient service. We provide IT support and service desk, HR administration, consultancy and payroll, accounts payable, project management and SIM card connectivity solutions.
We offer our services to the Education sector, Public Sector, Health Sector and Private Sector. We specialise in IT, HR and Finance, and aim to bring those together into an integrated solution and be the partner of choice to customers in those sectors.
What makes us different?
The business is based upon 4 core values: fast, connected, insight-driven and customer-led. We work to understand the challenges our customers face, as well as their needs, and make sure to provide a service to directly address those challenges.
We are innovative, our solutions are bespoke and not offered by any direct competitors in the local area. Our history and experience is unrivalled, with over 35 years supporting the largest local authority in the UK and the education sector in Kent. We are wholly owned by a local authority, so we have a local authority ethos with the drive, ambition and ability of a private business. Due to this, our approach is very different, we want to be a valued partner of our clients and work to understand their challenges and find the best, most efficient solutions to help them solve their problems.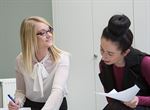 High standards matter
Cantium has achieved and maintained ISO 9001, 14001 and 27001 certification. We have achieved a place on several frameworks such as Crown Commercial Service's G Cloud-11, Network Services 2 and more.
We are also a key part of the delivery of digital transformation projects for the NHS in Kent and Medway. Part of this is the implementation of a shared data record of individuals requiring care or treatment. This will create significant transformational change and a new, collective approach for the health and social care system in the area.