SuperMaids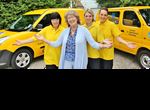 SuperMaids Domestic Cleaning Services Ltd is celebrating its 35th Anniversary this month. Since 1988 the company has built up a reputation for providing a First Class cleaning service throughout East Kent.
Domestic Cleaners in Canterbury
SuperMaids offer a personal service, with reliable, responsible and trustworthy staff who are employed and trained by ourselves. We receive a large number of recommendations and you can be sure that we endeavour to keep our clients delighted with the Domestic Cleaning Service we provide. We tailor our service to suit your needs and your budget. Whether you are looking for a weekly clean, or just a One-off visit before a special event or house move, SuperMaids will provide the help you need. We use professional cleaning products in order to focus on keeping your home thoroughly clean. Our service includes cleaning Bathrooms, showers and toilets. Cleaning tiled walls, paintwork, sweeping and washing floors, dusting, vacuuming upholstery and carpets, cleaning glass doors, inside windows, and more.
We are based in Whitstable and cover the area of East Kent from Faversham across to Thanet, Canterbury and all surrounding villages. If you are looking for a reliable and professional cleaning service for YOUR home, please take a look at our Web site and then contact us.